Creating a base project in Bonfire can be done in just a few minutes. This tutorial will help get you started!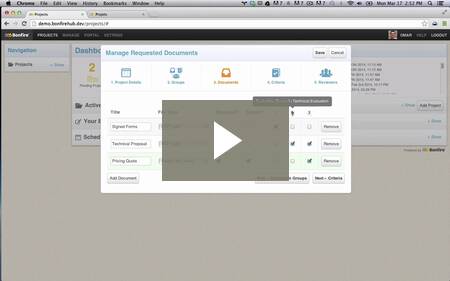 After logging in, click the Add Project button. This will launch the Project Details window where you will be able to set up the basics of your project.
The Project Details window is the very first step to creating a Project. Once done, it will launch the actual Project Page, where you will complete the rest of the project creation steps. We will go through each one by one:
Throughout Bonfire, you may see keywords with a series of small blue dots under them called Bonfire Tooltips. Here is an example of one:
If you hover your mouse over a tooltip, a popup will appear providing more details for the word in question (see Bonfire Tooltips).
Let's move along to the first step of the Project Creation...
1. Project Details
The Project Details page you see may appear slightly different than the one pictured below based on which features/modules you have enabled with Bonfire.
On this screen you're essentially filling out general details and defining important dates for your project:
Here is where you will configure the project visibility and decide if the documents attached to the project should be hidden once the opportunity is closed (in evaluating phase or later)
Once you've completed the Project Details Window, this will bring up the Project's page, where you will identify the next steps needed to set up your Project. Each step can be accessed by pressing on Manage.
2. Files
Public Files are documents that, once uploaded, they are visible to everyone. To upload your files (see Listing - Public Files ). Public files are intended to provide vendors with more information about a project.
Internal Files are documents only visible to people within the organization.
3. Evaluation Groups
Evaluation groups can be thought of as a way to run a multi-stage (multi-envelope) evaluation. Each group contains Reviewers, Criteria, and Documents (see Evaluation Groups).
The Reviewers that are a part of a given group can only access Documents and score Criteria within that group.
On the Manage Evaluation Groups screen below, you are strictly adding the group names/labels:
4. Documents (Requested Information)
Requested Information allows you to set up how you want your vendors to structure their submission (see Requested Information):
Adding Requested Data Fields to a project allows the vendor to enter specific information as part of their submission (see Requested Data).
Adding Requested Questionnaire allows for a structured way to receive vendor responses for a large number of criteria (see Questionnaire ).
Adding Requested BidTable allows to quickly solicit and evaluate projects with multiple bid items (see Creating a BidTable template ).
5. Criteria
In this step, you create the Criteria that will be used to evaluate the submissions that have come in from your vendors. More on Criteria here:
6. People
This is the last step in creating a project. There are 3 options under this section:
Reviewers can be added via the dropdown list OR you can type an email and then press Enter to invite a new User. From here you can also assign the Reviewer to the appropriate Evaluation group.
As soon as you click Add Reviewer, they will receive an invitation email outlining the name of the project and providing them with a link to our 3-minute training video for Reviewers.

Advisors are Organization members with read-only access to the project. To add and know more about Advisors (see What is an Advisor? )
Observers can view all aspects of a Project Draft or a Published Project including all the scores. Observers cannot make any changes to the project. Project Observer is a read-only role. To add and know more about Observers (see What is a Project Observer? ) 
Congratulations! You have successfully created a Project!
Now that you're project has been created, it will appear on the Project Dashboard under the Active Projects section:
You can select your project and edit modify and manage ANY aspect of it (including everything you just setup):
That's all there is to creating a project in Bonfire!