To Evaluate a BidTable you must first open up the Scorecard. This is found in the Submission section of the Project Details page. 
A Scorecard pop-up will appear over the BidTable you are evaluating. Click on Score. 
The Criteria section will expand. Click on Score Order List to access the Order List view. 
This video below will outline the steps involved with BidTable Evaluation once you have the Order List open: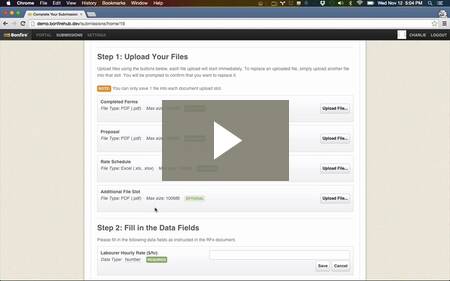 Hidden Columns
Buyers cannot put values into the Vendor Value Column until at least one submission has been made. Once a selection has been made, you may select a basket or multiple items, then under bulk actions select "Apply Vendor Values".
Once you have done so, you'll get an "Apply Vendor Values" window that will let you fill in your  hidden vendor columns. You may select your Vendor Column from the top drop-down menu, then fill in the values next to each Vendor line. Once you are done, hit save.
You can find more info on creating calculated BidTable Columns by checking out this article: Creating Calculated BidTable Columns.
You can also download/export your BidTable order list as an Excel file. See How do I download/export a BidTable order list? 
If you have any questions about the article above, please email Support@GoBonfire.com.